Are you ready to break up with your toxic hair products?
The Rare Elements Hair Collection has revolutionized the professional world of hair care by bridging the gap between Salon quality and Natural Hair products. Free from harsh or harmful chemicals, Rare Elements has proven that you don't have to sacrifice performance when it comes to using natural ingredients. This simple yet effective color safe Collection is loaded with rare & unique ingredients that go way beyond replacing the temporary solution of synthetic enhancers with the healing nourishment and lasting results that only nature can provide. Sourced from exotic locations around the world our ingredients range from moisture drenching rain-forest butters, pure botanicals, nutrient-rich oils, and the energy giving notes of essential fragrances. 
Pushing the boundaries of possibilities, It's what we do . . .
Excellence defines our Collection; Passion makes it the ultimate pampering experience.
Discover Rare Elements Hair Care + Scalp Care All-In-One and get more out of your daily beauty routine. The discovery is not about discovering a product, it's about discovering a healthy alternative and a new way of taking care of your HAIR!
This salon inspired all-in-one hair & scalp regimen maintains a high-level of performance, with an advanced system that replaces harmful chemicals & synthetic enhancers with the raw unspoiled wealth of nature. 
Rare Elements is a unique 5-piece Collection that was designed to target the specific needs of dry, damaged and color treated hair. Each application delivers both a nutrient-rich dose of nourishment to support and promote healthier hair growth and a much-needed boost of moisture which is essential for replenishing dehydrated hair that lacks shine and is showing signs of being brittle, frizzy, dull and or has been misbehaving.
ENJOY!
FREE SHIPPING on orders $50 and up
Shop The Collection
El' Treatment Pre-Shampoo Hair & Scalp Serum $68
Does your hair need a little Vacay? Discover the healing power of rare elements from around the world. 
100% PURE NATURAL NOURISHMENT: This rare invigorating hair & scalp serum promotes stronger healthier hair grow while leaving visible results after just one treatment. Transforming dull, weakened, moisture-deprived locks into hair that is stronger in its ability to mend, repair and restore itself, simply by receiving the nourishment it needs.
Key Ingredients: Marula Oil, Camelina Oil, Baobab Seed Oil, Olive Squalane.
Discover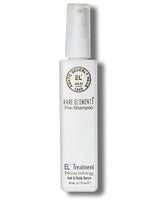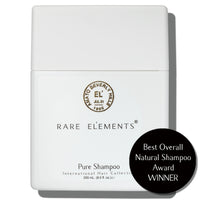 The Pure Shampoo Hair Bathe $38
Explore the wealth of nature! This journey starts by eliminating harsh & harmful chemicals and offers a rich  luscious lather that gently bathes the scalp & hair with a rare Kalahari Watermelon seed oil. It's unique ability to soothe troubled scalp conditions and target the specific needs of undernourished & overworked hair makes it the perfect choice for all hair types.
Explore
The Essential Lite Conditioner $40
Experience the hidden treasures of nature. This unique daily treatment is formulated with rare, exotic ingredients and is unlike any conditioner you've ever used. Its lite texture yet potent substance offers a daily dose of nourishment & moisture to help replenish and repair undernourished, overworked hair.
Experience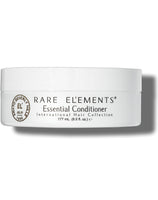 The Essential Conditioner Daily Masque $48
Escape your daily regime and step into a world of luxury! Repair, Treat & Fix Damaged Hair as you pamper each strand with the exotic luxury of nutrient-rich Marula Oil, shine enhancing Baobab and moisture drenching Rainforest Butters Murumuru and Cupuacu.
Escape
Marula Cocktail Leave-In Styling Treatment $38
Indulge in the rejuvenating power of a rare African "Miracle Oil" MARULA.  Just spritz and go! This unique light mist Leave-In Hair Treatment makes styling effortless. Adding an extra boost of much needed moisture and nourishment to enhance shine, control frizz and condition the hair all day long.  It is the ultimate finishing touch for those with dull, dry, unruly jet lagged hair.
Indulge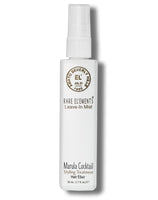 Customize your hair regimen to fit your individual needs
Testimonials
I've tried a lot of natural hair products and this is absolutely the best shampoo I've ever used. Definitely a Must Have! The ingredients in this line are so unique and so, so nourishing.

Kelly S. New York
If there was a 10 star rating this product would deserve it. Simply said this product is the BEST. Very Luxurious and smells amazing. You will love it...

Tara M. Paris
Just got back from a sunny holiday and my hair looked amazing the whole time. I used the El' Treatment Pre-Shampoo serum and my hair came back better then when I left. 

Laya A, California
The minute I used the products I could tell that I stumbled on to something good. The results are spot on.

Perri - LV
I purchase 2 at a time because I don't ever want to be without the this stuff. If you need shine, moisture or deep, deep conditioning you have to get the El Treatment. 

Rachel